WHO WE ARE
Prospero incentivises and facilitates investment in innovation, driving profitable growth for businesses and inclusive growth for Zambia.
We focus on the following high-growth sectors:
Food & Agriculture
Increasing the competitiveness and value of Zambian food products in end consumer markets.
Mining & Mining Services
Increasing the sustainable and inclusive economic impact of mining in Zambia.
Tourism & Hospitality
Increasing the value and proportion of tourist revenues captured by local businesses.
Investment Services
Increasing access to sources of impact investment finance for growth-oriented businesses.
Business Services
Increasing access to business services that support growth-oriented businesses.
Prospero partners with leading private sector players, government agencies and business associations to design synergistic initiatives that support strong business model development, promote transformative financial services, attract quality investors and foster enabling business and investment environments. 
Each of our intervention partnerships supports investment in business innovation – new products, services or business models – designed to address systemic constraints that limit market access and market participation by Zambian SMEs.
Prospero also works to strengthen the local impact investment ecosystem to help fill the gaps in the provision of finance for growth-stage businesses in Zambia by supporting their transition from high risk, early stage grant support to various types of commercial finance appropriate to their stage of development.
We adopt a systemic approach to catalyse a virtuous circle of investment for impact returns
Systemic approach to catalyse a virtuous circle of investment for impact returns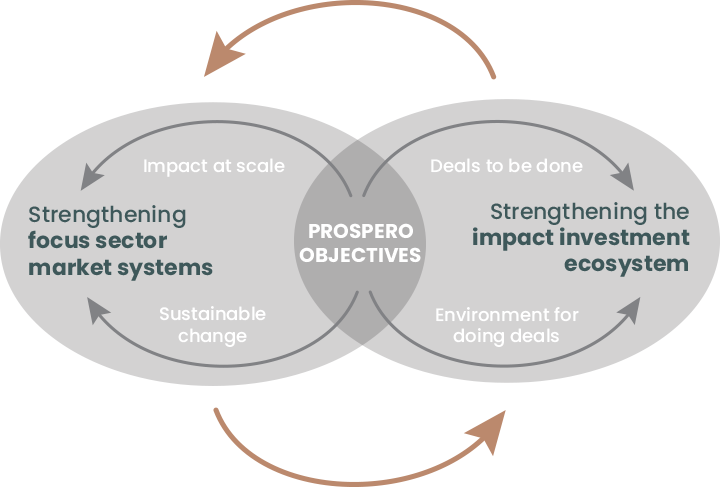 Innovation delivers returns to investors